Earlier this week in New York City, Guinness raised a glass of the iconic beer in honor of the Leary Firefighters Foundation (LFF) during a special event to present the foundation a check for more than half a million dollars in support of firefighters nationwide.
Actor and founder of the LFF, Denis Leary, joined Guinness and Diageo executives to celebrate their combined efforts to support firefighters across the U.S. Throughout the past year, Guinness raised over $500,000, in partnership with the LFF, to help provide quality equipment, education, training and technology for firefighters everywhere. Guinness and the LFF receiv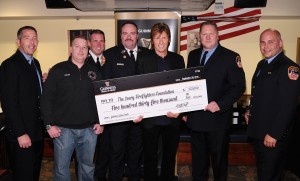 ed an outpouring of personal donations and contributions from adult supporters through the brand's fundraising efforts to support the foundation as well as a significant contribution from Guinness itself.
"We are thrilled to continue our partnership with Guinness for a third year," said actor Denis Leary, founder of the LFF. "Since beginning our partnership two years ago, we've raised more than $650,000 to help firefighters nationwide. It's an honor for the LFF to be recognized for its tireless efforts in support of all the men and women who put their lives on the line every day; the funds raised by Guinness will help our firefighter brothers and sisters in uniform across the country."
The event also kicked off the brand's goal to raise $1 million for local firefighters by St. Patrick's Day 2015, in the third year of its partnership with the LFF. For the next several months, Guinness will publicly recognize those who make great contributions to their communities by raising a Guinness to them at a community event.
Join the conversation and share Made of More moments on Twitter at @GuinnessUS. Select images and stories will be featured on the brand's Instagram feed which celebrates those who are Made of More. To learn more about Guinness' partnership with the LFF, visit www.GuinnessGivesBack.com To learn more about the work LFF does in support of firefighters, visit www.learyfirefighters.org.
I had the great pleasure to ask Denis Leary a few questions on the work his foundation is doing with Guinness, how we can do our own part to help out firefighters, and some questions on fatherhood.
Art Eddy: How did your foundation connect with Guinness to help spread the word about your mission to help firefighters?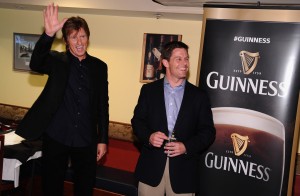 Denis Leary: There was already such a strong connection between the Guinness brand and the firefighter community, that they saw the opportunity and approached us. Even going back to the 1980's when my cousin, Jerry Lucey, and a good friend of mine became firefighters in New York, Guinness was always a big part of their lives. So it's great to see where this relationship is today.
AE: Tell me how people can help you and your foundation, The Leary Firefighters Foundation, along with Guinness to raise $1 million for firefighters across the country?
DL: It's a bit of a cliché, but it's true – every dollar makes a difference. Whether it's being used to buy a new helmet or halligan, it goes a long way to save lives. It's easy to get involved, just visit GuinnessGivesBack.com for more info and to make a donation.
AE: What do you see as the biggest area of concern for firefighters in this country? Is it a lack of access to equipment or funding for full-time firefighters?
DL: It really does come down to funding. An overwhelming number of firefighters in America are at the mercy of government funding decisions because they don't have the ability to go on strike or protest finances like other groups may be able to do. Their job is to keep you and me and all of our loved ones safe. I wish that the Leary Firefighters Foundation would be out of business, because that would mean that every department is fully funded and on their way to being safer and more effective.
AE: Switching to fatherhood, what is the main set of morals you looked to instill in your kids as they were growing up?
DL: Wow, I think my wife did most of that! (Both laugh.) I think it really starts with my own parents. They were extremely grateful to come to America from Ireland, and they instilled that sense of gratitude in me, as well as a responsibility to give back. These are some of the morals that I believe my own kids have because they really are great kids.
Growing up, they were able to spend a lot of time with my mother and learn about how different her childhood was in Ireland – such as spending the early years of her life without electricity. I think that went a long way towards their sense of gratitude now.
AE: What is your advice for new dads out there?
DL: Forget about sleep! That's not an option anymore. Even after the early years, there will be an absolute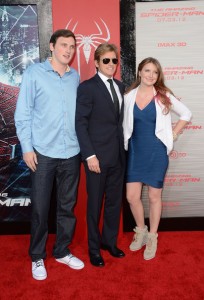 sense of worry and concern forever after that. It never goes away.
AE: Describe the perfect family vacation.
DL: Anywhere with my family. As long as we are spending time together, to me, that's perfect. That's all that matters.