Sean Anders is this week's guest on The Art Of Conversation Podcast.
On The Show
Sean Anders talks with The Art Of Conversation Podcast host, Art Eddy about fatherhood, adoption and the movie that he directed, Instant Family that is based on his own life. Sean talks with Art about how this movie was a project from the heart. Anders also shares stories abut the casting process and wanted to make sure he got the right actors for this film.
Sean then answers The Life of Dad Quick Five.
About Sean Anders
Successful director, screenwriter, and producer of several American comedy films who has received national attention for his creativity and storytelling. Sean lives with his wife, Beth and their three kids. Anders has worked on Never Been Thawed, Horrible Bosses 2, Daddy's Home, and Daddy's Home 2.
Follow Sean on Twitter at @yourSeanAnders and go to www.instantfamily.org to learn more about the movie and adoption.
Leave a review on iTunes for The Art of Conversation to win the Instant Family prize pack below.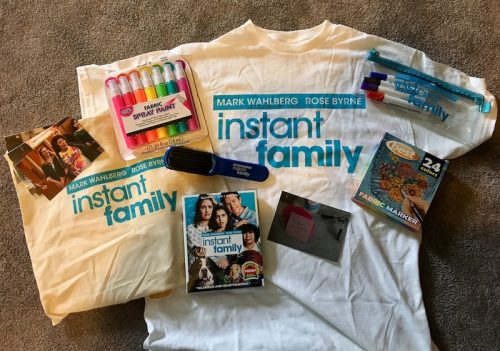 About Instant Family
When Pete (Mark Wahlberg) and Ellie (Rose Byrne) decide to start a family, they stumble into the world of foster care adoption. They hope to take in one small child but when they meet three siblings, including a rebellious 15 year old girl (Isabela Moner), they find themselves speeding from zero to three kids overnight. Now, Pete and Ellie must hilariously try to learn the ropes of instant parenthood in the hopes of becoming a family. Instant Family is inspired by the real events from the life of writer/director Sean Anders and also stars Octavia Spencer, Tig Notaro and Margo Martindale.
About The Art Of Conversation Podcast
If you are looking for more of these types of podcasts check out the rest of the The Art Of Conversation Podcast
We are pleased to have another podcast here at Life of Dad, and we focus the show on dad writers. Each week, host Art Eddy showcases a father in the dad community. The topics range from sports to movies to comics to video games to technology to parenthood to anything that comes up, really. Absolutely nothing is off-limits on The Art Of Conversation Podcast. Enjoy! Find us on iTunes, Google Play, Stitcher Radio and iHeartRadio.